Billboard in Wichita Kansas Profile: Maple and West Street West 259 S. West St, Wichita, KS 67213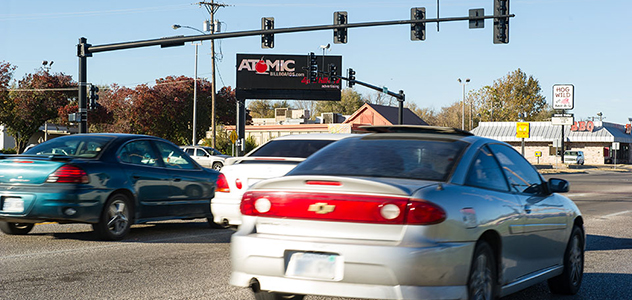 Local direct advertisers, brands, national and local and national agencies are regular advertisers on this popular and high traffic large format digital billboard sign. The 10'x30' digital face is located at two stoplights at the corner of maple and west streets and is visible to northbound traffic on West Street and west bound traffic on Maple Street. This premium high traffic digital sign location boasts the longest read time of any digital billboard in Wichita Kansas. Motorists in this area are frequently visiting local sites and national businesses and retailers including Walmart Supercenter, Friend's University, Newman University, Rolling Hills Country Club, Plaza West Shopping Center, Towne West Mall, Westlink Shopping Center, Botanica, Exploration Place, Old Cowtown Museum, Dillons Food Store and Fuel Center, Dunkin Donuts, Chick-Fil-A and other popular venues. Auto dealers within two miles of this billboard account for $3.5 million dollars of used car sales. Restaurants, retail and electronic stores are among the most popular stops along West and Maple Street. In 2017, the median household income in Wichita is $54,432. This billboard is also very close to Wichita Transit local bus and transit routes including Route #12, 4 blocks west of #13. and just 1 block SW of Route #15. This billboard is the only billboard in West Wichita.
Atomic Billboards Board ID: #20259 South East Face Digital Wichita KS
Fliphound ID (Digital Only): KS-AEX1-D000157 (click to see Fliphound Digital Billboards In Wichita)
Neighborhood (s): Delano, La Placita Park, Orchard Breeze, Orchard Park, Stanley/Aley, Sunflower, Westlink and Wichita
Contact Atomic Billboards Today!
Our partner Fliphound operates the largest nationwide online digital billboard network and provides advertisers access to more than 750+ premium billboard locations reaching hundreds of thousands of motorists each day in Wichita Kansas and millions of people nationally on a daily basis.