Billboard Advertising Lowest Cost Local Advertising versus TV, Cable, Print, and Radio
Outdoor advertising is the most affordable advertising medium on a CPM basis and is a great way to reach people where they live, work and play. Billboard advertising costs less than radio advertising, TV advertising, or print advertising on a CPM basis or for every 1,000 potential customers that see your ad – see major media dollar for dollar ($) comparison research study.
Contact Atomic Billboards Today!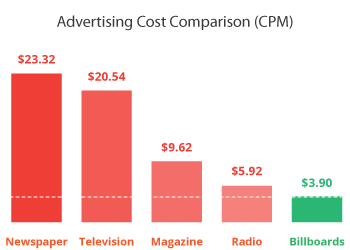 Out of home (OOH) media continues to deliver more online activity per ad dollar spent compared to television, radio and print (newspapers and magazines)."
Our partner Fliphound operates the largest nationwide online digital billboard network and provides advertisers access to more than 750+ premium billboard locations reaching millions of people on a daily basis. Fliphound makes it easy for you to find the best locations for billboard advertising by zip code and search for pricing any time of the day – use Fliphound's billboard cost, CPM, DEC, audience reach calculator to price campaigns in 650+ markets. You know your marketing goals. Let us help you achieve them
Access the Wichita's premium billboard network and find billboards in Wichita Kansas and other Oklahoma markets– see Atomic Billboards locations.
Please follow and like us: